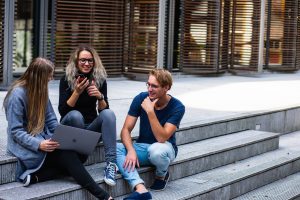 Hey student, have you already missed travels? Or maybe you haven't raised your leg anywhere out of Lithuania lately? Now is a great opportunity to do this in combination with studies!
Currently selection for Erasmus + studies for 2021-2022 spring semester is taking place.
Interested? So here what you need to do:
Choose a university abroad. The language of instruction at the host university and the compatibility of exchange study plan to your KTU study programme must be taken into consideration. List of Partner Institutions (information updated on 23/08/2021)
Register for language test. If you do not have a valid English proficiency certificate, take the English Test at KTU. Register for the test at ukc@ktu.ltuntil September 13 (indicate test date, first name, second name and your faculty). Language tests will be held in KTU Centre of Foreign Languages, address A. Mickevičiaus str. 37, on September 13, 14, 15, 16 and 17, 2021.
* Note! Most institutions accept the university language test as proof of English proficiency. However, some universities accept only TOEFL, CAE and IELTS. In order to make sure which language tests your receiving institution accepts, please check the List of Available Partner Institutions. You need to register and take TOEFL, CAE or IELTS tests during or after the exchange selection individually.
Register online from 23 August to 24 September, 2021 by submitting online application form. The following documents must be attached to the application form: Transcript of Records for the completed semesters and Certificate of Language Proficiency (the certificate shall be not more than 2 years old). Only application forms completed in full will be accepted.
Take part in the selection at the faculty. Selection at the Faculty of Electricity and Electronics will take place remotely in 30th of September 2021. Submitted student applications will be considered without the direct participation of the student, but in case of questions or if the student's participation is necessary, the students who have submitted the applications will receive information about the participation in the meeting by e-mail.
Hard to decide, different questions arise? You can find more information about academic exchange opportunities HERE or contact the EEF International Relations Coordinator migle.klusaite@ktu.lt , international.eef@ktu.lt or KTU Academic Exchange Specialist saule.zadlauskiene@ktu.lt