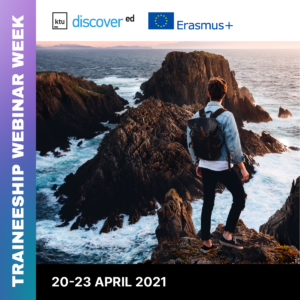 Starting a career performing international internship sounds tempting? And this can be the beginning of your professional path, because KTU students have the opportunity to do an internship not only in Lithuania, but also abroad. You can choose to stay at home or go to another country to gain professional experience there. The world is waiting for you!
WHAT?
It is a traineeship (work placement, internship) abroad in companies, training centers, research centers and other organizations of the countries, participating in Erasmus+ program.
WHERE?
The Erasmus + program involves EU countries + Norway, Turkey, Iceland, Liechtenstein, Northern Macedonia and Serbia.
WHAT?
The following Erasmus + placements are available:
Summer:
Additional practice (you can go after the first course);
Compulsory practice;
Graduate internship (within 12 months from the end of studies at KTU).
WHEN?
Erasmus + internship can take place during the summer, compulsory placement or the final semester, or after graduation. Students can go on an Erasmus + internship after the first year.
Applications are accepted four times a year. The nearest selection this year is on 1st of June, so don't hesitate!
HOW MUCH?
The duration of an Erasmus + placement is a minimum of 2 months (or 60 days) and a maximum of one year.
WHY?
Because it is a great opportunity not only to gain theoretical knowledge in practice, but also to improve your communication, foreign language and intercultural skills. Do not miss the opportunity to become more entrepreneurial and acquire social and emotional skills – qualities that are highly valued by future employers.
You will also receive financial support during your internship abroad under the Erasmus + program – students who go on an Erasmus internship receive monthly scholarships of 600-700 euros for travel, insurance, living and other expenses.
The ERASMUS + scholarship is intended to cover the additional costs of mobility, i.e. travel and insurance costs and, if necessary, foreign language training and higher living costs in the host country. Scholarships are not awarded to cover all the costs of an internship abroad.
WHERE TO START?
You should start by looking for the company / organization where you would like to do an internship. If you do not know where and how to do this, you can find links to Erasmus + internship portals HERE.
All candidates who submit the required documents in time are invited to take part in the selection. The selection is carried out by the Selection Commission appointed by the Vice-Rector for Studies.
HOW?
Once you find a suitable place for internship, prepare your application documents:
An invitation letter. You can find its template HERE
Motivation letter. A free-form document where you provide your motivation for wishing to complete an Erasmus + placement. The motivation letter should be written in English.
Fill in the Erasmus + internship application form HERE
Attach invitation and motivation letters to this application.
All documents must be completed, signed and stamped as required.
Do not hesitate. Act. Meet. Improve. It is all up to you.
If you have any questions, please contact Miglė Svygrienė, International Relations Coordinator of the Faculty Electrical and Electronics Engineering (migle.klusaite@ktu.lt) or Rūta Jankauskienė, International Academic Exchange Specialist (ruta.jankauskiene@ktu.lt).
More information about internships, scholarships, required documents can be found HERE.