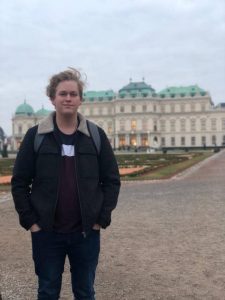 It is known that most of the students of Kaunas University of Technology are foreign citizens, who come to seek higher education in Lithuania. Including the Faculty of Electrical and Electronics Engineering (KUT FEEE). Freddie Wilson Jennings, a second-year robotics student from the United Kingdom, talks about his choice to study at KUT FEEE.
Freddie does not hide the fact that he gets endless questions from those around him about why he chose studies in Lithuania, with many well-known and respected universities in Great Britain.
"When deciding where I wanted to go for further education I wanted to live somewhere different from Western Europe. I also wanted the program to feel right for me with a strong team of staff behind supporting it".
It wasn't easy for the future Robotics specialist. Before choosing where he wanted to study, he visited other faculties at KUT and was fascinated by how a group of professionals from different disciplines can work in a team and achieve a common goal.
"When touring KTU the staff form different faculties were were collaborative, bringing different talents together to create many projects (which they demonstrated). At the end what really settled my decision on KTU was speaking with Virginijus Baranauskas who answered all my questions".
The rapid development and improvement of robotics and artificial intelligence are expected to have a major impact on the labor market in the future. Many global studies indicate that 5 – 15 percent of jobs will be automated over the next 10 – 15 years. As a result, the demand for robotics and automation professionals in the job market is also increasing – but F.J.Willson's choice of Robotics has been fueled by his curiosity.
"I chose robotics because I've always had an interest in how things work but more than anything this led me to robots, they always seemed so futuristic and powerful it just made me want to know more about then. I knew I wanted to work more with the designing and programming of robots so I wanted a pure robotics program rather than mechatronics mixed in. For me, this is what KTU offers".
"From my first year and a half, I have gained a lot of support from my faculty they have offered and supported opportunities that may not have happened elsewhere. The first 2 semesters were focussing on foundational courses which were very disappointing, on the other hand, the professors provide additional time to ask questions and materials. More than anything the community and extra circular activities in KTU have been the best part." – Their experiences are shared by Freddie Wilson Jennings.