After hearing or reading certain reports about national defense in social media, we often think about the security of the country – air or land forces as a whole. However, do we ever sufficiently analyze how individual areas are? One of the – air defense – was singled out by Radviliškis District Municipality on 21 November. organizing the conference "Solutions. Innovation. Future ", which was attended by representatives of companies and Lithuanian Armed Forces, Kaunas University of Technology.
Professor Linas at the conference of KTU Faculty of Electrical and Electronics (KTU EEF). Svilainis read a report "Radar Radar Technologies", two faculty students – J. Balamutas and R. Stankus – created a prototype of an automatic drone slider, which he created.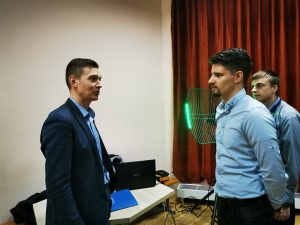 Meanwhile, representatives of multinational companies presented the latest technological solutions in the military industry, according to L. Svilainis, the conference was held on the principle of knowledge sharing and discussion. The discussions that followed each presentation provided an opportunity for representatives of the Lithuanian Armed Forces and the academic community to gain ideas from presentations, to hear the needs and observations of the Lithuanian Armed Forces.
According to Major Vaidas Šimaitis, Commander of Lithuanian Air Force Air Defense Battalion based in Radviliskis, the technology and threats are evolving very rapidly.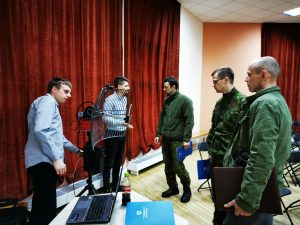 "The knowledge gained at such conferences helps the Lithuanian Armed Forces to constantly be one big step ahead of the threat. Not only the available equipment, but also the opportunity to improve at the level of knowledge is important, "he assured.
J. Balamutas does not regret good reviews either. In his view, the event should expand beyond the Air Force alone.